Medidata Blog
Preparing for a New Data Future: The Value Proposition of a Unified Platform
Jan 20, 2021
-

4 min read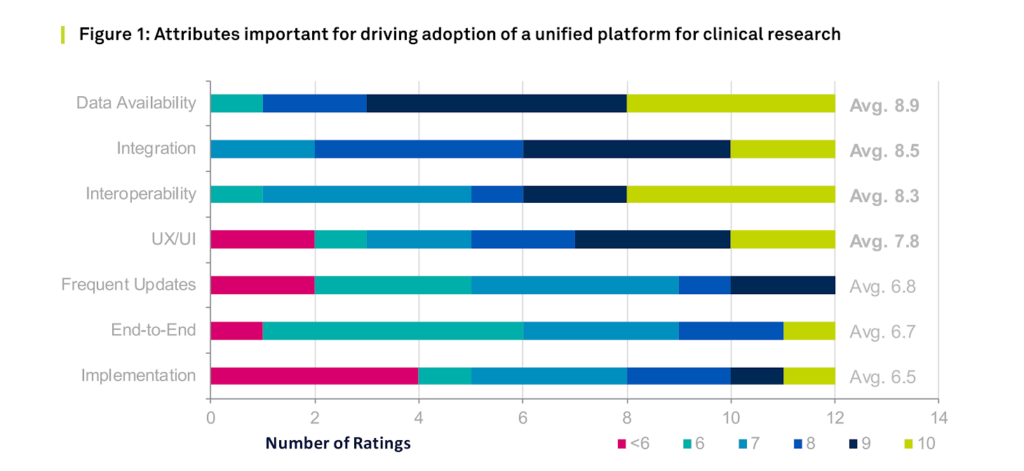 This blog is part four of a five-part series on the findings of this survey of clinical research technology decision makers. Download Preparing for a New Data Future: A Survey of Clinical Research Technology Decision Makers for comprehensive survey results to guide your unified platform approach to clinical trials.
A rapid shift towards virtualization due to the COVID-19 pandemic, larger volumes of data collection from an increasing number and diverse set of data sources, and the need for sponsors and CROs to gain more complete pictures of trials and to act on data quickly are forcing the industry towards eClinical software solutions that are on unified platforms. Our new survey of key decision makers in clinical research technology examined industry outlook on the value proposition of a unified platform. Key findings include:
eClinical solution providers expand from core products
Respondents indicated that eClinical solution providers generally have a core product they are best known for, which they expand from and establish a platform around. For instance, an eClinical solution provider known for their Clinical Trial Management System (CTMS) adding a Randomization and Trial Supply Management (RTSM), and an Electronic Data Capture (EDC) provider adding an electronic Clinical Outcomes Assessment (eCOA) or eConsent offering, or an eCOA provider adding on an imaging product.
Product disparities are decreasing
Respondents indicated they tend to prefer applications from specific eClinical solution providers, but since differences between point solution products are narrowing across eClinical solution providers (i.e., products and features are beginning to look more and more alike between different solutions), the appeal of a full platform offering or solutions that are part of a unified platform are increasing.
Demonstrated cross-application data availability and integration drives unified platform adoption
Companies considering unified platforms care less about end-to-end application coverage than the ability to integrate and manage data across applications. As the chart below shows, the high scores weighted on a 10-point scale intended to measure the most important drivers of adoption for unified platforms are data availability, integration, interoperability, and UX/UI underscore an expectation for unified platforms to eliminate some of the traditional boundaries across eClinical applications. 
Even though the attribute "end-to-end" was ranked lower than other attributes, a prevailing theme across the interviews was an expressed preference for data availability and integration across a clinical trial. The best way to achieve these functionalities is to have a single unified platform that connects as many eClinical solutions as possible so that cross-application data sharing can occur seamlessly.
As one would expect, larger impact of professional services in eClinical solution provider selection comes down to customer need

CROs generally have some professional service capabilities outside of their core services. Their customers may look to them to perform these services, such as study build, study process consulting, and technology strategy.
Larger biopharmaceutical companies often do not need much professional service support because they have in-house resources. However, they still view customer service and helpdesk capabilities as important.
Small and mid-sized pharmaceutical companies and CROs indicated a desire to purchase additional professional services from eClinical solution providers, noting a lack of existing in-house expertise in these areas.
"Especially for a mid-sized [company] or a startup, you don't want to rely on 100 different consultants. [Professional services] really help to offer expertise where we do not have any internal capacity."
—VP of clinical development, mid-sized life sciences
Biopharmaceutical and CROs expect domain expertise
Domain expertise was a consistently high-rated criterion (See Figure 2), and the respondents that viewed it as most important were most likely to consider buying eClinical solution providers' professional services.
CRO software tends to trail in capability depth
Respondents indicated that some CROs offer their own internal eClinical software for specific functions whereas others maintain a broader eClinical product offering. These solutions were viewed as trailing in software capabilities in comparison to established eClinical solution providers. However, it was also noted that these CROs provided strong professional support services for their eClinical software products, which was consistent with their strong service offerings in general.
Unified means unified
Respondents indicated that a key and expected factor in adopting unified platforms is the availability of data across eClinical applications to support clinical trial workflows. Other types of approaches, such as point solutions and integrated applications, simply do not provide the same level of data unification and cross-application data availability as a unified platform. 
As shown in Figure 2, platform capabilities, especially cross-application data availability (i.e., data unification), were vital proof points for respondents. Figure 2 also shows that traditional eClinical software solution buying criteria, such as the strength of individual point solutions and domain expertise, remained highly important to respondents. The survey results also show that successful growth may come from demonstrated capabilities, especially data unification, that a platform can provide underneath the application suite.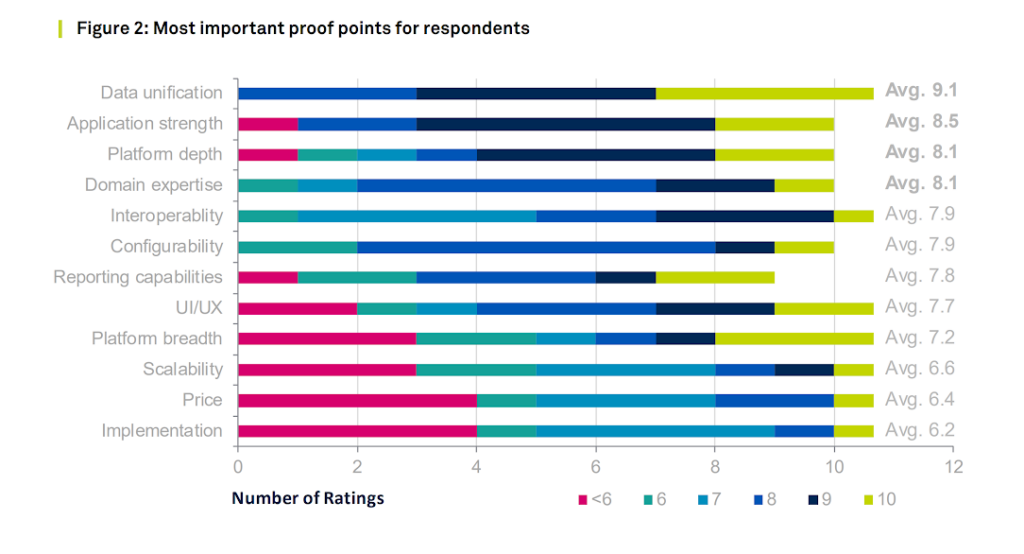 We expect that the pharmaceutical industry will continue to evolve and adapt to its increasingly digital environment and move from single and fragmented point solutions to unified platforms. Embracing unified platforms can ease the burden on clinical development teams, are repeatable to support large numbers of studies, and allow for sponsors to centralize their data so they can gain powerful insights across trials instead of having to deal with disparate datasets that are isolated across several point solutions.
Stay tuned for the next edition of this five-part series. Download Preparing for a New Data Future: A Survey of Clinical Research Technology Decision Makers for comprehensive survey results to guide your unified platform approach to clinical trials.
Featured Articles
02
Aug 01, 2022
-

4 min read
03
Aug 15, 2022
-

2 min read
04
Oct 03, 2022
-

3 min read
Subscribe to Our Blog Newsletter
Preparing for a New Data Future: The Value Proposition of a Unified Platform